All you ever wanted to know about me...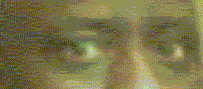 ....including some stuff you didn't!
Q: WHERE AND WHEN WERE YOU BORN?
A: April, 13, 1955 at 7:30pm (PT) in San Franscisco, CA.

Q: WHERE WERE YOU RAISED?
A: California, Oklahoma, and Louisiana.

Q: HOW TALL ARE YOU?
A: 5'11"

Q: HOW MUCH DO YOU WEIGH?
A: 305.

Q: DAMN, YOU'RE BIG!
A: ..yeah but I'm working on it...besides I'm cute!

Q: WHEN DID YOU GRADUATE HIGH SCHOOL?
A: 1971 from New Iberia Senior High School.

Q: DID YOU GO TO COLLEGE?
A: Yes. Two years at the University of Southwestern Lousiana, majoring in Broadcasting.

Q: SO DO YOU EVER GET INTO RADIO?
A: Yes, I spent 20 in the business, and am working on staring a new cable access program.

Q: WHAT DO YOU DO NOW?
A: I work for a sales lead company and I also have a e-commerce business I am building.

Q: WHAT ARE YOUR HOBBIES:
A: Many. I love old-time radio, the movies (all types), keeping up with current affiars and such. I love the beach, cooking (basic stuff), reading sci-fi and motiovational books....

Q: WHAT DO YOU LIKE TO EAT?
A: See sexual FAQ's

Q: SERIOUSLY, YOU DOLT....*WHAT* DO YOU LIKE TO EAT?
A: I have a standing rule, If I have to ask what it is,I don;t eat it. So don't expect me at Chaisson's anytime soon...but here;s the breakdown:
--Breakfast---
Raisin Bran
Corn Flakes
Malt-O-Meal
Oatmeal with Raisins
Scrambled eggs,saugage, bacon, hash browns, grits
Cap"n Crunch WITH CRUNCHBERRIES!
Tang
OJ
Milk.
---LUNCH---
Plain Hamburgers (Especially the $6 Burger at Carl's Jr)
Fried cheiken
Steak
Pork Chops
Roast Beef
Fish'n Chips
---DINNER---
The above,plus spinach,sweet peas,corn, green beans,lima beans,mashed or fried potatoes, stuffing, rice.

there's more, but you get the gist.

Q: WHAT MUSIC DO YOU LIKE?
A: Anything except rap

Q: WHAT MOVIES DO YOU LIKE?
A: Anything except ultra-violence and "Little Nicky"